The team here at Get Your Mobi includes people from all walks of life. Each member has a different background and a varying set of skills.
With a passion for sales, design, marketing and our clients, we are a strong community of industry specialists who put our customers first in everything we do.
Lee Brady
Managing Director
In answer to your question…. hard work and determination. Without trust you have nothing!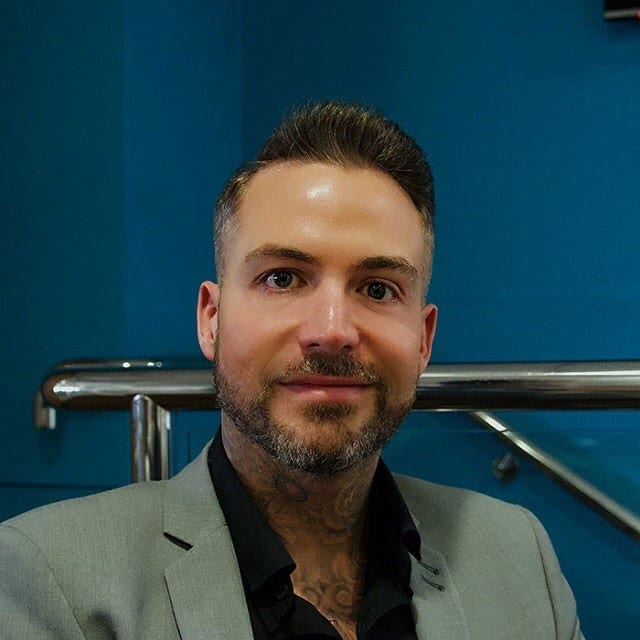 Adam Blakey
Technical Director
Difficult roads often lead to beautiful destinations.
Jonathan Scott
Account Manager
Started at Get Your Mobi in 2013 as a young lad with no kids, now I'm a proud dad and stepdad to 3 kids who keep me extremely, EXTREMELY busy so coming to work everyday is my peace and quiet!!
Tattoo enthusiast/collector so when I'm not at work I'm either being drawn on by a tattooist or by my kids. I'm also a Man Utd fan but we won't talk about that.
Andy McKendry
Account Manager
I'm a mine of useless information, handy in a pub quiz I suppose….. "example did you know?"
"A male may urinate in public, so long as it is on the rear wheel of his motor vehicle, and his right hand is on the vehicle."
Nadeem Malik
Account Manager
Hi, I'm Nadeem also known as Demmy to some (long story!) Passions in life include the gym, eating out, my family and holidays abroad.
Amy Holdsworth
Social Media
After graduating from university, I started my career at Get Your Mobi back in 2015. Four years down the line and I am now part of the marketing team as the social media guru.
When I'm not at work, you'll find me either shopping on ASOS or drinking plenty of prosecco.
Josh Ford
Paid Marketing Specialist
I am the office FIFA champion!
I am a huge petrolhead! "Being second is to be the first of the ones who lose."
Gary Bell
Developer / Designer
Hi, I'm Gary and I am very grumpy before 10.30 in the morning.
Sean Whittaker
Administrative Support
I'm a one man admin army.
Craig Smart
Support Advisor
Craig joined the team in 2021 as a customer support advisor. When he's not doing that, he also has a flair for Photoshop and enjoys creating logos and digital brochures for our clients. He loves all things graphic design!
In his spare time, Craig enjoys spending time with his family. You will also find him at local DJing events.